Impedance products
Zurich Instruments offers powerful tools for all types of impedance measurements. Whether you need a high-accuracy impedance analyzer, or a high-speed multi-frequency impedance spectroscope, we have the right instrument for you.
The MFIA is a digital impedance analyzer and precision LCR meter that sets the new standard for impedance measurements in the frequency range from 1 mHz to 5 MHz. The MFIA provides 0.05% basic accuracy and a measurement range spanning from 1 mΩ to 1 TΩ. The instrument has a high measurement repeatability and a small temperature drift. With the LabOne® user interface the MFIA offers a number of long-awaited innovations for the impedance and LCR measurement available without the need of any software installation.
MFIA Product Video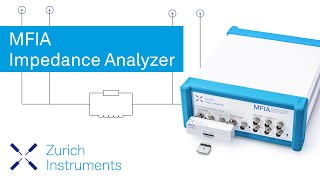 Application notes
Related blog post
HF2IS
50 MHz Impedance Spectroscope
The HF2IS provides dynamic and static impedance spectroscopy where the speed of the measurement is a priority. Two differential measurement units with a wide frequency range and 4 dual-phase demodulators are matched with the unprecedented precision of a 128-bit DSP engine. This allows multi-frequency measurements with very high sensitivity to relative changes in impedance parameters. The HF2IS satisfies the highest impedance spectroscopy measurement requirements of leading research laboratories.
Related blog posts